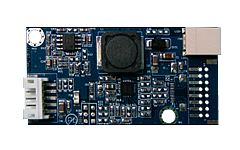 Description:
The D21 series is a high voltage Boost driver with 1~8 channels(option) adjustable constant current regulators for LED backlight applications.
one to eight regulated current ports are designed to provide uniform and pure DC constant current sinks for driving LEDs within a large range VF variations.
It can drive a number of LEDs in series/parallel configuration.
It could output the lowest dropout voltage among used channels to Boost Driver in order to maintain the output voltage in optimal level.
An OVP circuit is built for open-loop protection when any string becomes open.
The built in DC to PWM (Pulse Width Modulation) module signal for the dimming control function allows users to set LED brightness smoothly.
+5V(option), normal=+12V~+24V. Wide input voltage range.
Step-up conversion (up to 12 LEDs each string)
External PWM dimming control.(PWM Input frequency Range: 100Hz ~ 20kHz) External DC (0V ~ +3.3V) dimming control,(Option).
Output LED String Open Protection.
Output LED String Short Protection.
Output LED String Over Current Protection.
Thermal protection function protects IC from over temperature damage.
Soft start.
LED Backlight for LCD Monitor
DC / DC BOOST LED lighting